Scarlet Witch Captain America Civil War Hasbro Marvel Legends Series Review!
|
Let's take a look at the Hasbro Marvel Legends Series Captain America Civil War Scarlet Witch 6" figure!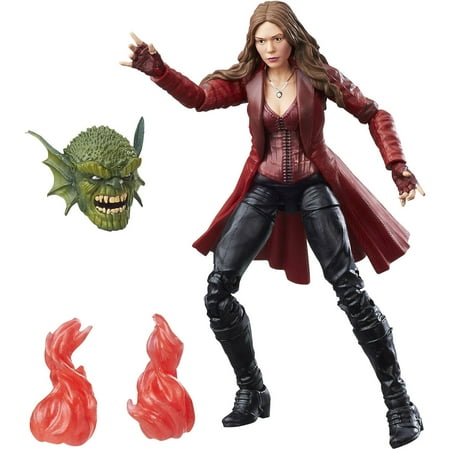 "I can't control their fear. Only my own."
I have taken some pictures of the 
Scarlet Witch Captain America Civil War figure for your viewing pleasure. This 6" Hasbro Marvel Legends figure is based on the likeness of Elizabeth Olsen as Wanda Maximoff aka Scarlet Witch as seen in the 2016 Marvel Studios movie, Captain America Civil War. Here is the Scarlet Witch figure in the box:
"I can protect myself."
Here is the Scarlet Witch Marvel Legends figure out of the box. The figure stands about six inches tall, is highly articulated and stands nicely on its own. The hair, head and face sculpt looks pretty good and there is some great detail on her jacket.
The Scarlet Witch figure comes with two accessories:
The two accessories go over Scarlet Witch's hands to make it look like she is using her hex powers!
The Scarlet Witch figure also comes with a Build-A-Figure piece for Abomination:
"Spirits lifted."
You can pose the Scarlet Witch action figure in some really cool action poses:
The Scarlet Witch Captain America Civil War Marvel Legends figure is rare, but still available at Walmart.com! Use our Affiliate button below to add this figure to your collection:
Creator of Planet Nestor Entertainment
Movie Buff | Toy & Comic Book Collector
Affiliate Disclosure: We enjoy sharing deals and content from our network of Affiliates, so please be advised that any purchases directed from our site may earn us payments from them. Any earnings made from our Affiliates will help support the site, so if you see something you like, feel free to use our Links!
Advertisement:
Thank you for your support! Hopefully this Post has been informative, helpful or entertaining! If you would like to help support our website without using our Affiliate Links, consider leaving a Tip by using the Donate button below: